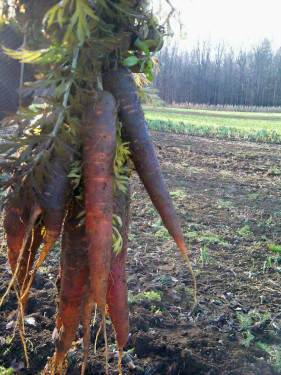 IN SEASON:
Mid-September – November
COOKING TIPS:
Carrots are wonderful many ways: fresh, grated in salads, boiled, roasted, in soups and stews and lets not forget carrot cake!
STORAGE AND HANDLING:
Store carrots washed or unwashed in a plastic bag in your refrigerator. Before using scrub carrots until clean and unless it is absolutely necessary do not peel because many nutrients are close to the skin and are lost if the carrot is peeled. Carrots will last up to a month in the fridge.
NUTRITIONAL DETAILS:
Carrots are very high in vitamin A and beta carotene and are also high in fiber, calcium, potassium, selenium, and trace minerals.
VARIETIES:
Nelson, Sugarsnax, Jaune du Duobs, Purple Haze, Atomic Red, White Satin, Tonda di Parigi