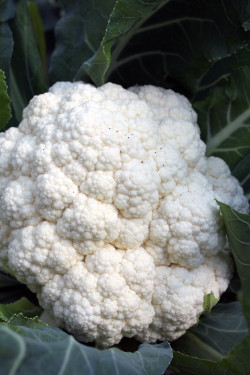 IN SEASON:
End of September – early November
COOKING TIPS:
Soak cauliflower in cold salted water to remove any pests. Cut off leaves and core. Cut into florets for fresh eating or cooking. Cauliflower is also good stir fried. See recipes for ideas.
STORAGE AND HANDLING:
Store cauliflower intact in the refrigerator in a plastic bag. It can be kept for up to 2 weeks but is best if eaten the first week. When cooking cauliflower you can core the head and leave the florets together or cut into small pieces for faster cooking. To remove worms soak in salted water before using.
NUTRITIONAL DETAILS:
Cauliflower offers significant vegetable protein along with vitamins A, B complex, C and E as well as being high in potassium and other minerals. We are growing purple and orange cauliflower again this year and the color also indicates a slightly different nutritional bonus.
VARIETIES:
Fremont, Cheddar, Graffiti, Snow Crown, Veronica