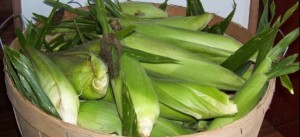 IN SEASON:
August – September
COOKING TIPS:
Husk corn and remove all silks. Boil 3-4 ears for 1-2 minutes. Or roast on the grill husk and all.
STORAGE AND HANDLING:
Place whole ear of corn in refrigerator, husks and all. It will keep best unhusked. Corn's sugars quickly turn into starches so use corn quickly to maintain best flavor. If you do find a worm or a spot that a worm has eaten, don't throw out the whole ear; cut out the spot and/or worm and keep the rest.
NUTRITIONAL DETAILS:
Corn offers a significant amount of vitamin A, B-complex, phosphorous, and potassium, along with vegetable protein. As many traditional native dishes will illustrate, corn combined with most beans or dairy form a complete protein. Like other whole grains, corn is an excellent source of complex carbohydrates.
VARIETIES:
Illini Extra Sweet