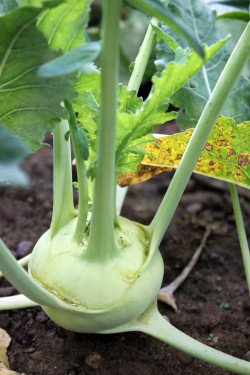 IN SEASON:
June – mid-July
COOKING TIPS:
Eat kohlrabi raw with dip or grated into salads. Cook it like a potato or like broccoli for different results. See recipes for ideas.
STORAGE AND HANDLING:
Trim leaves from kohlrabi bulb. Store leaves in a damp towel or plastic bag in the fridge. The leaves do not keep very long so use quickly. The bulb will last a few weeks in the fridge in a plastic bag. It is not necessary to peel kohlrabi.
NUTRITIONAL DETAILS:
Kohlrabi contains lots of fiber, calcium, potassium and vitamins A and C.
VARIETIES:
Purple Kohlrabi, Winner