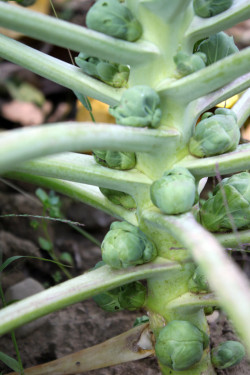 IN SEASON:
October – November
COOKING TIPS:
Cut sprouts off the stalk and trim ends if necessary. Peel off outer leaves if undesirable. Steam or roast or try in soups and stir fry.
STORAGE AND HANDLING:
Cut the sprouts off the stalk and store unwashed in the refrigerator in a plastic bag. Do not eat the stalk! Compost it instead. Before preparing rinse off the sprouts and cut or peel off any undesirable leaves. If stored for more than a week Brussels sprouts increase in odor and decrease in nutritional value, so eat up!
NUTRITIONAL DETAILS:
Brussels sprouts belong to the cabbage family and share some of the same nutritious values. They are high in protein and carbohydrates for vegetables and contain large amounts of vitamin A and potassium, as well as healthy doses of folic acid, vitamin C and calcium. Though Brussels sprouts can be a love or loath vegetable they do become sweeter as the cold weather sets in and when they're fresh and lightly cooked, watch out! You just might find you like them, as I did. To best store the sprouts, pop them off the stalk and put them in a plastic bag in the fridge.
VARIETIES:
Diablo, Royal Marvel