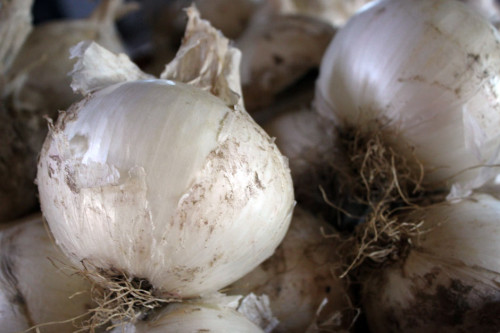 IN SEASON:
July – November
COOKING TIPS:
Cut onions under water or chill throughly to reduce tear inducing fumes. Onions mellow with cooking so cook briefly for string flavor or cook longer for milder flavor.
STORAGE AND HANDLING:
Keep onions in a cool, dry and dark place away from apples and potatoes. Do not store onions in the fridge unless they are cut and peeled. Keep peeled and cut onions in an air tight container to keep from contaminating other foods. Onions will store for months if conditions are good.
NUTRITIONAL DETAILS:
The pungency of an onion reflects the amount of sulfur in the soil in which it is grown. A compound within the onion turns into sulfuric acid when it comes into contact with the water in eyes, causing painful tears. Onions as well as scallions, shallots, leeks, and garlic are noted for their various health and healing benefits. Without the genus of alliums cooking would be less exciting and tasty!
VARIETIES:
Corpa, Yellow Spanish, Red Bull, Walla Walla, Candy, Patterson, Gold Coin, Red Marble, Ambition Shallot