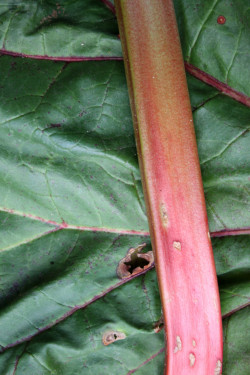 IN SEASON:
May – mid-June
COOKING TIPS:
Trim tough ends of rhubarb before using. Rhubarb may be eaten raw, though it is milder if cooked. Try making a sauce or adding to hot cereals or mixing with strawberries.
STORAGE AND HANDLING:
Rhubarb keeps best in the crisper bin of the fridge. A plastic bag around it helps it retain its moisture.
NUTRITIONAL DETAILS:
Rhubarb is very high in potassium, calcium and vitamin A and surprisingly enough contains some sodium.
VARIETIES:
McDonald, Victoria Rhubarb