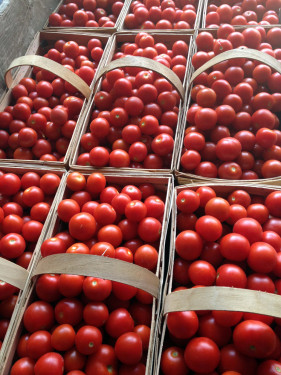 IN SEASON:
August – September
COOKING TIPS:
What can't you do with a tomato? That might be easier to list. Eat raw, grilled, baked, roasted, in soups, salads, in sauce, or make salsa.
STORAGE AND HANDLING:
Tomatoes keep best at room temperature and can last a about week if ripe. If tomatoes are under-ripe keep in a warm place covered. Check tomatoes every other day to determine ripeness.
NUTRITIONAL DETAILS:
Tomatoes are high in vitamin A and of course because of the red are a good source of lycopene. And because we frequently concentrate tomatoes in sauce or paste they become very concentrated sources so perhaps the kids are right about pizza? For right now just enjoy them au natural.
VARIETIES:
Sunoma, Paragon, JTO99197, Super Sweet 100, Sweet Olives, Heirlooms